How Unemployment Could Impact Home Sales
Ten million Americans lost their jobs over the last two weeks. The next announced unemployment rate on May 8th is expected to be in the double digits. Because the health crisis brought the economy to a screeching halt, many are feeling a personal financial crisis. James Bullard, President of the Federal Reserve Bank of St. Louis, explained that the government is trying to find ways to assist those who have lost their jobs and the companies which were forced to close (think: your neighborhood restaurant). In a recent interview he said:
This is a planned, organized partial shutdown of the U.S. economy in the second quarter. The overall goal is to keep everyone, households and businesses, whole.
That's promising, but we're still uncertain as to when the recently unemployed will be able to return to work.
How has the unemployment rate affected home sales in the past?
It's logical to think there would be a direct correlation between the unemployment rate and home sales: as the unemployment rate went up, home sales would go down, and when the unemployment rate went down, home sales would go up.
However, research reviewing the last thirty years doesn't show that direct relationship, as noted in the graph below. The blue and grey bars represent home sales, while the yellow line is the unemployment rate. Take a look at numbers 1 through 4: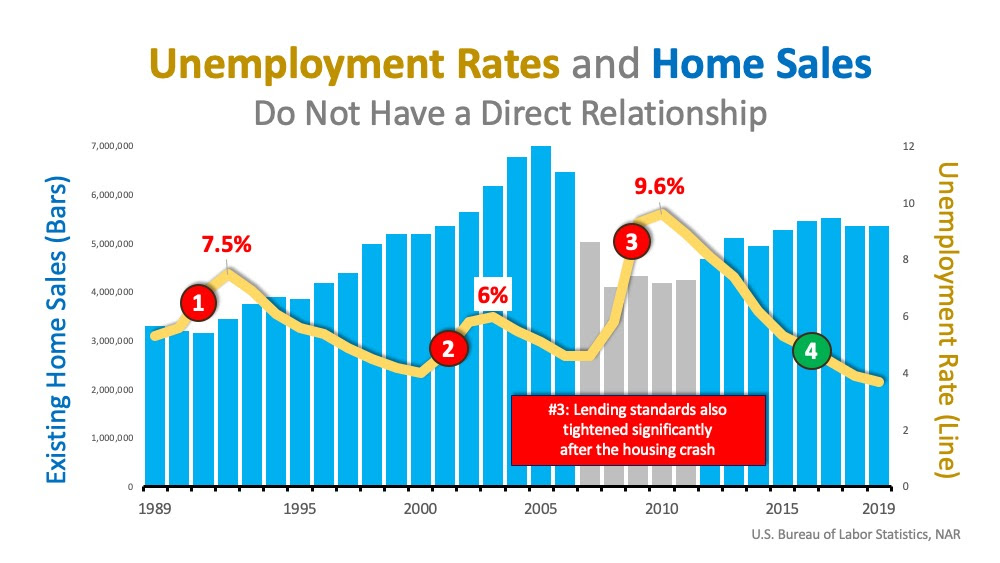 The unemployment rate was rising between 1992-1993, yet home sales increased.
The unemployment rate was rising between 2001-2003, and home sales increased.
The unemployment rate was rising between 2007-2010, and home sales significantly decreased.
The unemployment rate was falling continuously between 2015-2019, and home sales remained relatively flat.
The impact of the unemployment rate on home sales doesn't seem to be as strong as we may have thought.
Isn't this time different?
Yes. There is no doubt the country hasn't seen job losses this quickly in almost one hundred years. How bad could it get? Goldman Sachs projects the unemployment rate to be 15% in the third quarter of 2020, flattening to single digits by the fourth quarter of this year, and then just over 6% percent by the fourth quarter of 2021. Not ideal for the housing industry, but manageable.
Bottom Line
We've given you the facts as we know them. The housing market will have challenges this year. However, with the help being given to those who have lost their jobs and the fact that we're looking at a quick recovery for the economy after we address the health problem, the housing industry should be fine in the long term. Stay safe.
Source: KCM